Two Unrecorded Tokens from Pennywell Colliery
Pennywell Colliery was situated on Pennywell Lane (later Pennywell Road), St.Jude's, Bristol (ST602740). It was opened around 1854 (a map of that year labelling the site as "coal works" but showing no further graphic detail) and it passed through the hands of several owners; 1854 Chick, Keeling & Co., 1865 Chick, Brown & Co., 1866 Thos. Brown, 1868 Brown and Harris, 1874 G.W. Harris, 1877 Pennywell Colliery Co. (Chubb & Waring), 1884 Alexander Synge, 1886 Easton Coal Company (Leonard Boult and Co), 1890 Bristol United Collieries. These dates draw on specific ownership references, not necessarily the dates on which ownership of the colliery changed hands. It has been stated that coal extraction ceased around the latter date, but Pennywell was not immediately closed down. It still appears on a map of 1900, and would appear to have finally been closed down shortly after that date.

George Chick sought permission to build many cottages locally around 1856, suggesting the need to house a growing workforce as the colliery was initially developed. The main shaft was eventually sunk to around 950 feet, to enable coal getting from the Kingswood Great seam at 280 ft., Kingswood Little seam at 396 ft. and Easton Red Ash at 945 ft. Detailed records for the Bristol coalfield at this time are very scant and nothing is now known of recorded output or workforce (but from comparisons elsewhere, the latter is unlikely to have been more than, say, 200-300). Two tokens are known for this colliery.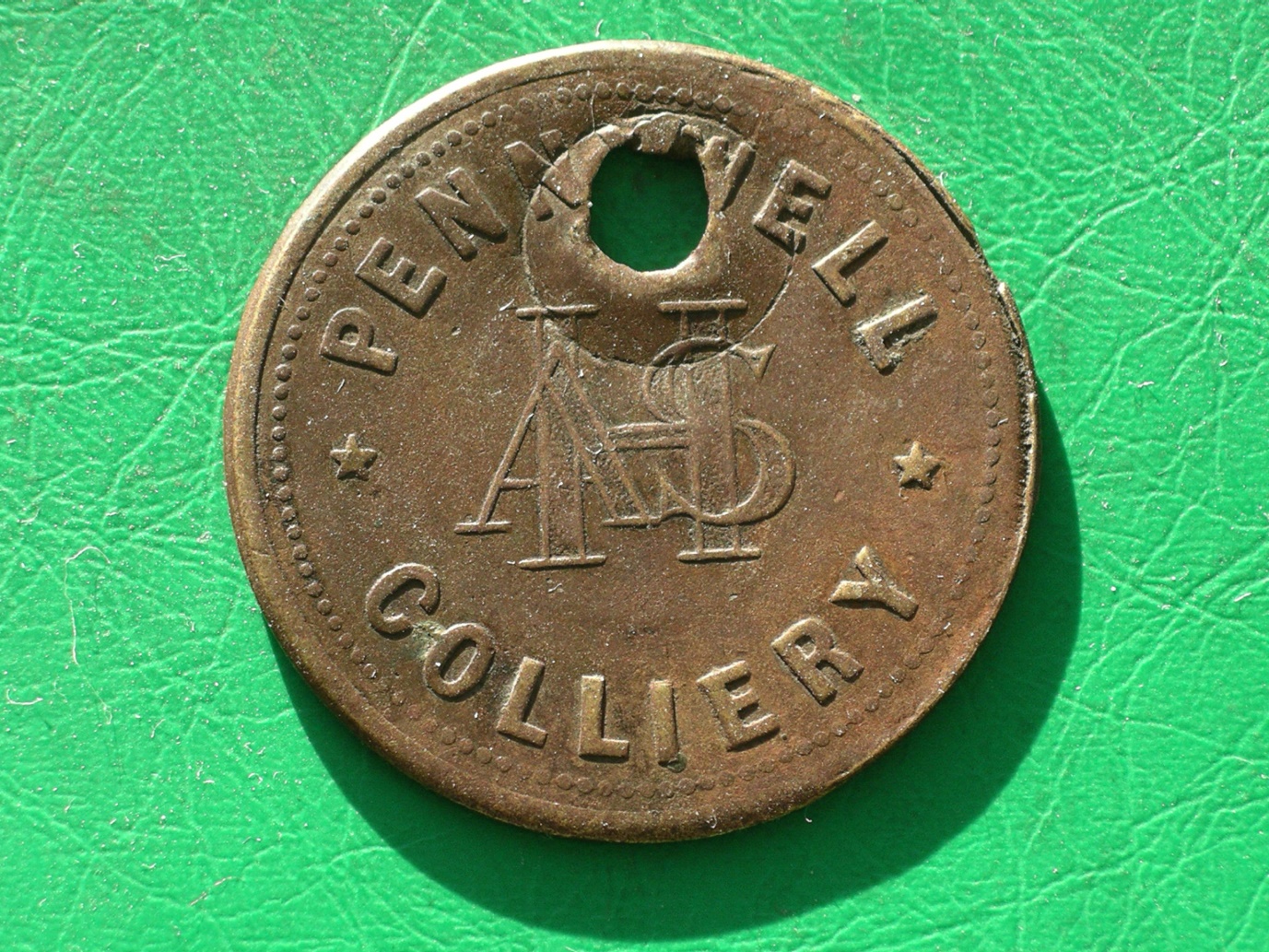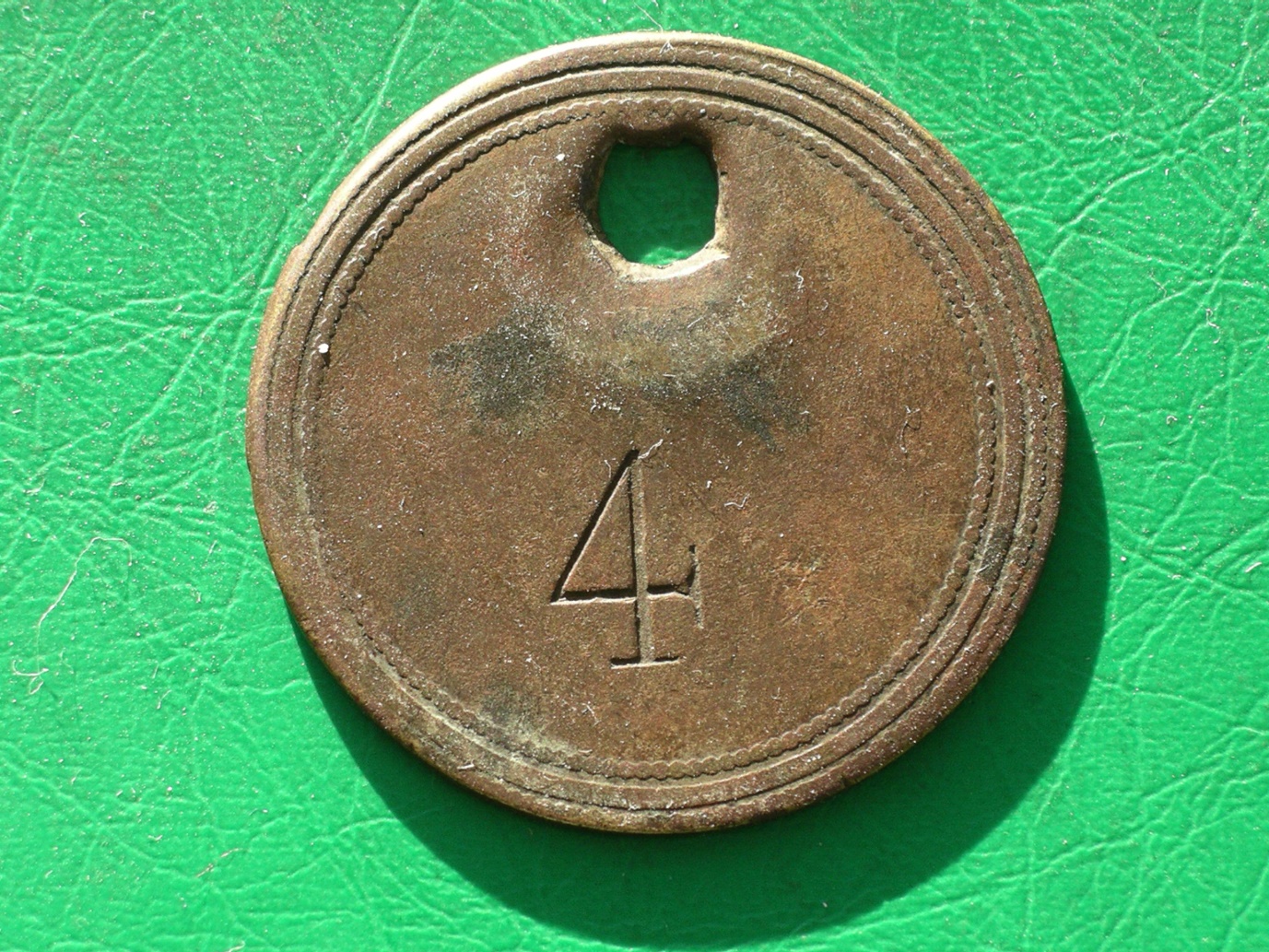 This token is brass, 37.5mm, and would have been the token ("tally" or "check") carried by a miner underground. The number 4 stamped on the reverse would have been his unique employee number, and possibly used for distributing pay. The ugly hole is probably the result of the check being riveted to a strap so that it could then be worn within his belt.

Such checks were only used sporadically around Great Britain before 1913, and are not often found for the Bristol and Somerset coalfields. In 1913 a new Coal Mines Act required that by law all miners should carry such a check as part of an improved safety system, whereby the colliery kept a record above ground about where each miner was deployed underground. This followed many decades of major underground disasters (accidents, roof collapses, fire, explosions, flood, gas) when rescue efforts were hampered by the rescuers often not knowing who/how many/where the underground victims might be.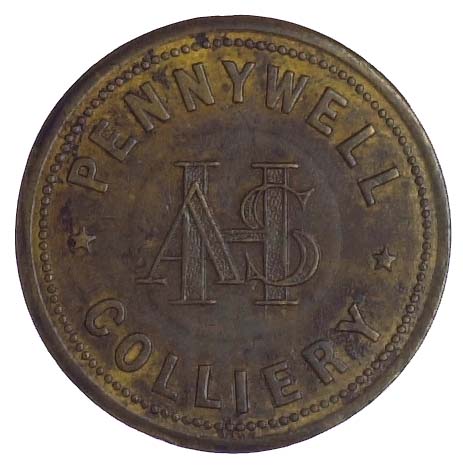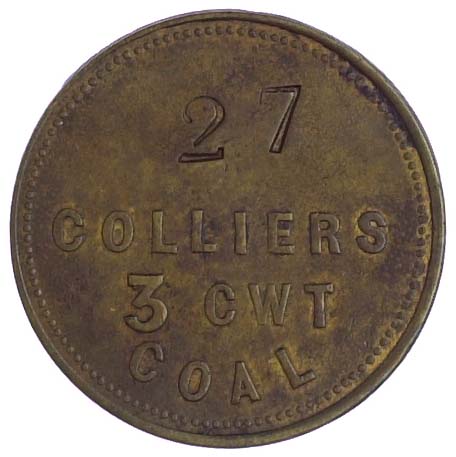 (These two images by courtesy of Dix, Noonan, Webb)
The size of the second token is the same as that of the first, above, and the obverse is from the same die. However, the reverse and the lack of piercing point to a different use. The reference to "COLLIERS 3 CWT COAL" might suggest that this check was used to claim/record payment for coal extracted – this is a fairly frequent and long standing use of coal tokens elsewhere in Britain, and the practice always was for the owners to pay only for output, not according to a system of fixed wages. However, 3cwt is a modest amount of coal extracted. It might correspond to the contents of a tub or wagon, but coal was not weighed for payment until it had been sifted for quality and size above ground ("smalls" and "slack" were not included in weight for payment purposes). Furthermore, local accounts invariably refer to miners being paid by the ton extracted, in which case producing tokens for 3cwt would seem inadequate. A possible alternative comes to mind when reading "City Pit" by Fred Moss, a Bristol miner in the early C20. Fred Moss recalled that at Speedwell Pit in 1917 married miners were given an allowance of 3 cwt of free coal to last them through the winter. This, then, may have been a more likely use of the check, which again bears the individual miner's number (27) and would have been handed over in return for the delivery of his coal allowance.

Any other ideas (or better still, evidence) on the use of this check would be welcome.

Finally, we have the issue of dating the checks. I am indebted to my colleague, Adrian Derrick, who eventually identified the initials on the monogram as those of Alexander Hamilton Synge. This was not immediately obvious, as Synge's name does not appear in any of the several books written about the Bristol coalfield, but in depth investigation identified him as the owner of Pennywell in HM Mines Inspection list for 1884. Synge appears to have been a colourful character, whose family were wealthy land owners in Ireland, but also lived at some point in Clifton and he himself later moved to Shirehampton. Synge acquired Pennywell at some point after 1881 but was declared bankrupt at Bristol County Court in 1885, around which time he surrendered control of the colliery. His lawyer explained to the bankruptcy court that Mr Synge "had spent an enormous capital in endeavouring to develop a colliery property in the city".

This enables us to establish outer dates of around 1881-1885 for the use of these interesting and unusual tokens.

We would be interested to hear of any similar tokens, from Pennywell or other local collieries.

Mike Shaw
(mike [at] bathandbristol-ns.org.uk).
---
---