MORE LOCAL MINING (AND RELATED) CHECKS, BADGES AND MEDALS
1) EARLY UNION BADGES

Working conditions for miners all over the country were harsh and dangerous. In the C19 many attempts were made to unionise in order to achieve better and fairer conditions of employment, but the unions were fiercely (and sometimes vindictively) resisted by colliery owners. Many early unions (and associations) were short lived. Miners paid dues to their union and received a badge in return. It was evidence of membership (important when claiming a benefit or other support) and sometimes would be stamped with the miner's personal number.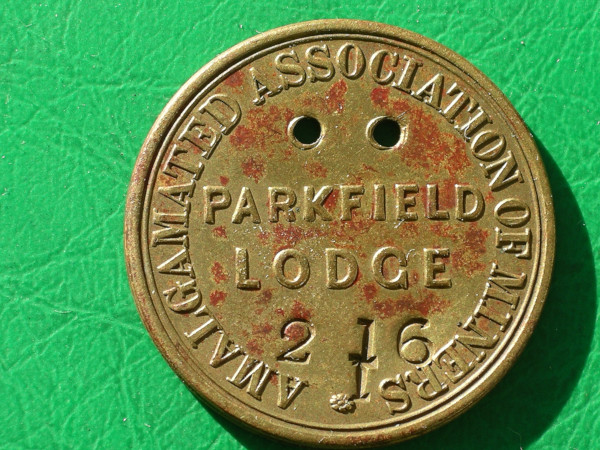 Parkfield Colliery
PARKFIELD COLLIERY (1851-1936) was located near Pucklechurch, South Gloucestershire. In 1896 it employed 292 people underground and 49 on the surface. However, this badge can be dated to 1869-1874, when The Amalgamated Association of Miners was one of two national newly formed miners unions (the other; the Miners National Association). In 1874 coal prices began to fall rapidly but the miners tried to resist wage cuts by going on strike. The results were disastrous and the Amalgamated Association of Miners went bankrupt, to be dissolved a few months later.

216 is the number of the miner. The purpose of secondary numbers (in this case No.1) was not consistent from place to place, and here it may either indicate that the Lodge was organised in several sections, or it may represent the period (eg the year 1871, or a calender quarter) for which the badge was valid.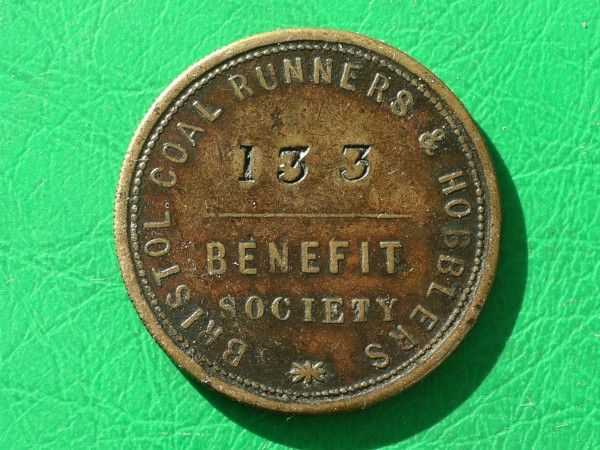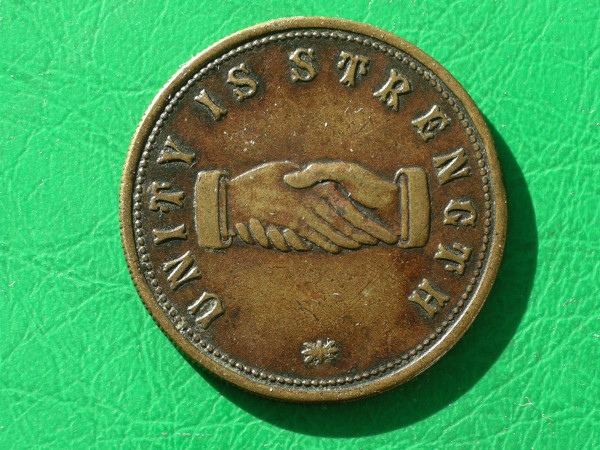 Bristol Coal Runners and Hobblers Benefit Society
COAL RUNNERS were responsible for transporting coal within Bristol's docks, transferring it to and from coal trucks and the ships (mainly importing from Wales, although there was some coastal carriage). Hobblers were rowing boats crewed by six (although sometimes eight) men, which were tied on to the ships in order to help them navigate the difficult tidal waters of the Avon, between Pill to Bristol docks. The name hobbler came to be used for their crew members as well as the rowing boats themselves. No date has been found for this society, although it is probably from the late C19.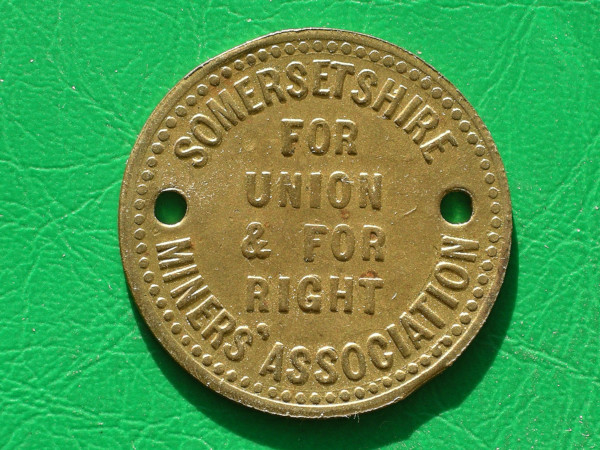 Somersetshire Miners' Association
THE SOMERSETSHIRE MINERS' ASSOCIATIONwas founded in 1872. It had a membership of around 2,000 around the end of the C19, which grew to a peak of 4,310 around 1910, the time of the coalfield's heyday. It then declined steadily to around 2,600 when it was merged into the National Union of Mineworkers in 1945, just prior to the nationalisation of Britain's mines. None of the extant specimens of this badge appear to have been stamped with an individual miner's number.
2) RETAIL COAL CHECKS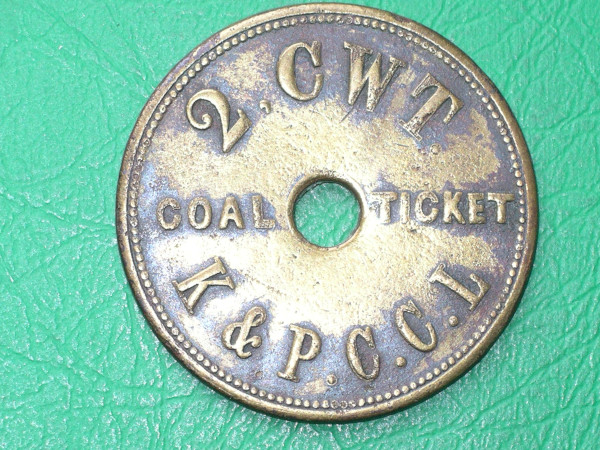 Kingswood and Parkfield Colliery Company Ltd: 2cwt Coal Ticket
THE KINGSWOOD AND PARKFIELD COLLIERY COMPANY LTD.was established in 1878 or 1879 by Handel Cossham, a prominent local businessman and owner of several collieries, who at various times was a City Councillor in both Bristol and Bath, then Mayor of Bath, and finally M.P. for Bristol East at the time of his death in 1890. The collieries were sold at auction in 1900, at which time this name would have become extant, so the check can be dated to a period of around twenty years before the end of the C19. It appears to be a retail ticket, probably used to show prepayment for a delivery of coal (or possibly for free coal to employees).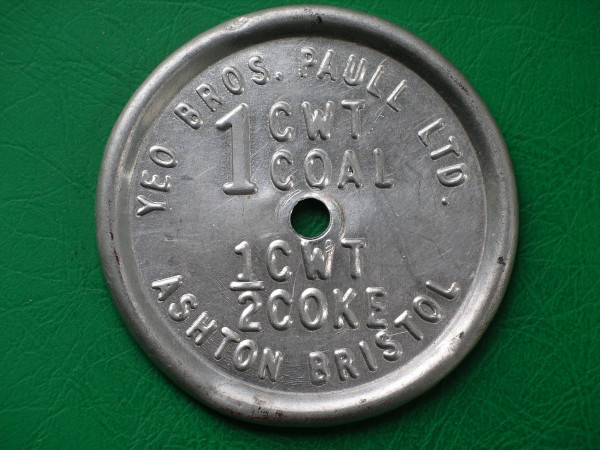 Yeo Bros. Paull Ltd, Ashton, Bristol 1cwt/coal, 1/2 cwt coke
Founded in 1896 in Martock, Somerset, the company had premises on North Street, Ashton Gate, Bristol until 1993. However their products seem to have been recreational (tents, camping equipment, deck chairs, tarpaulins etc), so the purpose of this ticket is unclear.
3) THE NATIONAL COAL BOARD---safety and rescue

The transfer of ownership of the vital coal industry from private to government control was a long standing demand of the miners and the wider labour movement. Coal reserves were taken under government control in WWII to bolster the war effort and the election of a labour government in 1945 led to virtually all the U.K.'s collieries (958 of them) being taken over by the government, which paid compensation to their private owners.
From 1st January 1947 they were owned and managed on behalf of the nation by the National Coal Board (NCB). One result of this change was a greater and more consistent emphasis on safety, which is reflected in some of the NCB's paranumismatic memorabilia.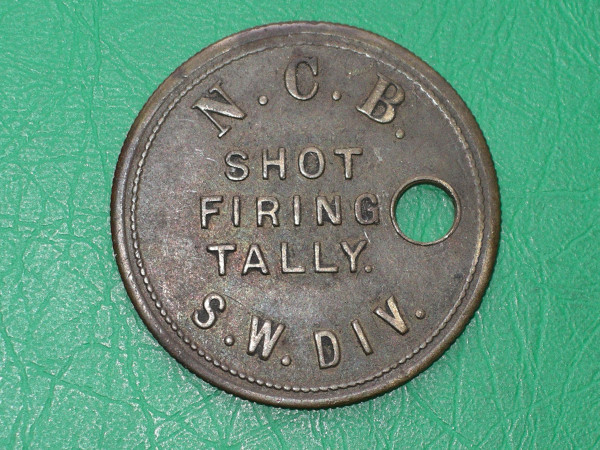 NCB South Western Division Shot Firing Tally
The NCB South Western Division comprised mainly the numerous collieries of Wales, but also those of Somerset. These tallies were given to "sentries" who would ensure that no-one except authorised workmen could approach underground workings where explosives were about to be used.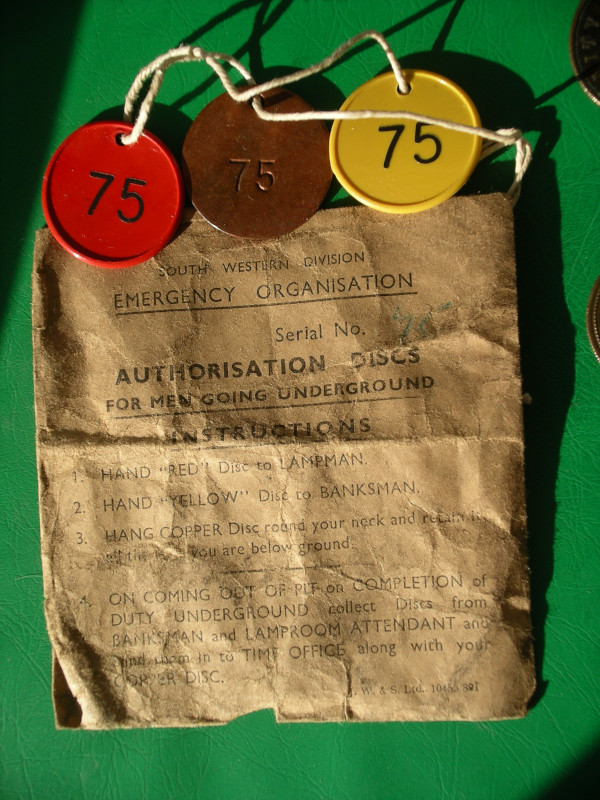 NCB South Western Division Underground Emergency Organisation (Mines Rescue Team)
The purpose of these three nondescript tokens (all numbered 75) might be a mystery were it not for the distressed envelope which gives the instructions for their use by members of a Mines Rescue Team;
AUTHORISATION DISCS FOR MEN GOING UNDERGROUND
1) Hand Red disc to LAMPMAN,
2) Hand Yellow disc to BANKSMAN,
3) Hang Copper disc around your neck and retain it all the time you are underground.
ON COMING OUT OF PIT ON COMPLETION OF DUTY UNDERGROUND collect Discs from BANKSMAN and LAMPROOM ATTENDANT and hand them in to TIME OFFICE along with your COPPER DISC.
This system mirrors that used by underground miners on a daily basis when using their own numbered tallies.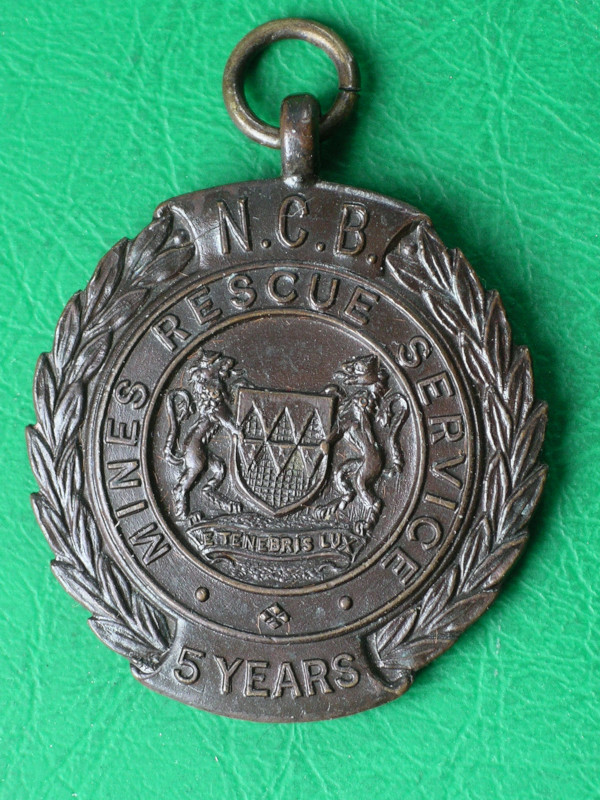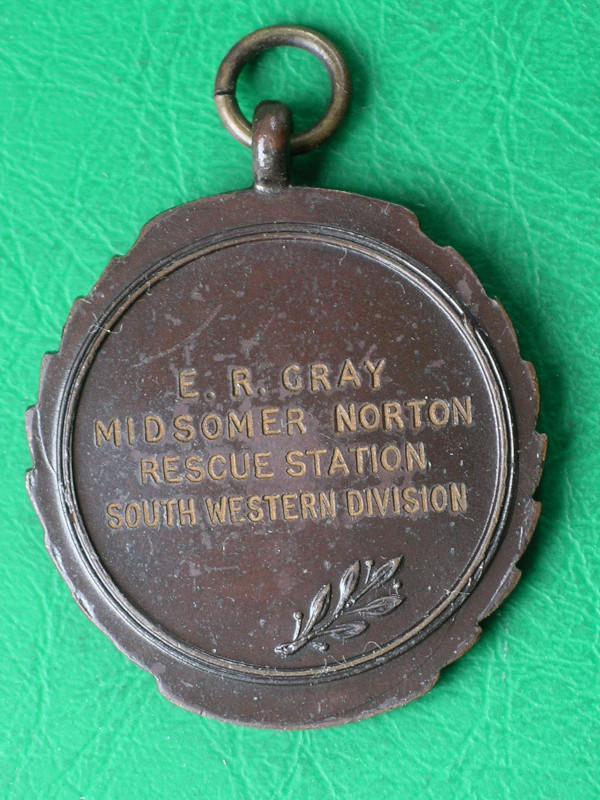 NCB Mines Rescue Long Service Medals
Bronze medals were awarded nationally to recognise those miners who undertook First Aid and other specialist training to become members of a Mines Rescue Team and then completed five years service (shown above).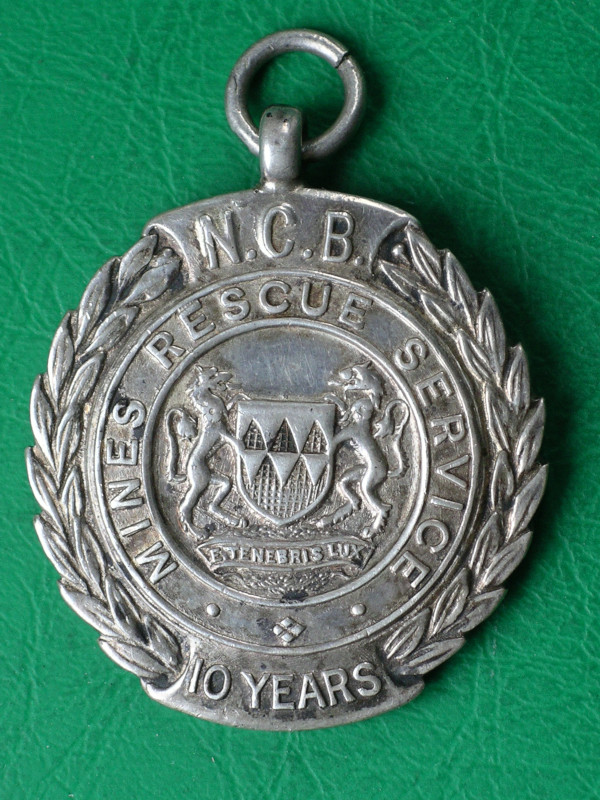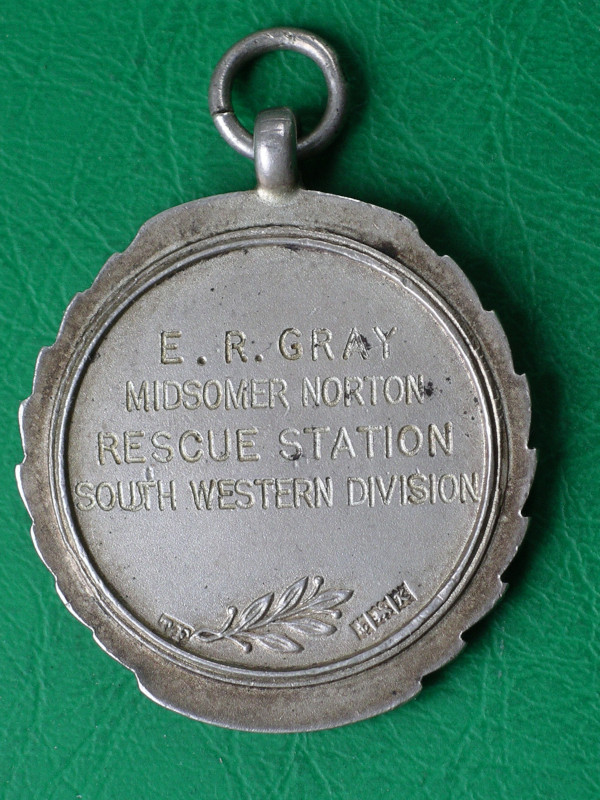 A similar silver medal was awarded upon completion of ten years service (shown above).
Both these medals are engraved to E.R.GRAY/MIDSOMER NORTON/RESCUE STATION/SOUTH WESTERN DIVISION.
The bronze medal was awarded in 1954 and the silver medal in 1959. Ernest Roy Gray (4/5/27-30/5/96) worked at Writhlington Colliery until its closure in 1973.

If you are interested in local mining checks, tokens, and similar memorabilia, or if you have any, please feel free to contact us (mike [at] bathandbristol-ns.org.uk).
---
---