CHECKS, TOKENS, TICKETS AND PASSES
Bristol Pub Checks
Bristol Numismatic Society (BBNS) members have a wide range of interests across the world of Numismatics and Paranumismatics. The latter term has now been used extensively to cover a variety of items such as tokens, checks, tickets, passes, medalets, medallions etc.
This article introduces research work which is being carried out by members of the BBNS which covers public house checks, tokens, tickets and passes for the counties of Bristol and Gloucestershire.

It soon becomes apparent, to those who collect and research such items, within a specific county, that the county boundaries have been altered considerably throughout history. This is because centres of influence and population have increased or decreased. Bristol is a city and county. It developed as a major port in the medieval period and grew in influence to be the second largest port after London for many years before other ports took on that position. In 1373 Edward III decreed that Bristol including its suburbs, precincts and boundaries as it was in 1373 was to be considered and treated separately to the counties of Somerset and Gloucestershire which surrounded it. Since that time as Bristol grew in influence Bristol council, in agreement with the surrounding counties expanded the county boundary. For a short period of time from 1974, Bristol with parts of Somerset and Gloucestershire were officially renamed as the county of Avon. However, that situation for Bristol was reverted and currently Bristol is a standalone county. This situation is similar across the country and it makes for a good discussion point for collectors and researchers of locality themed collections, written research papers, articles and books.
Bristol Pub Checks
It is considered that pub checks of the 19th and 20th centuries were generally used between 1830 – 1920. There were some licensees in Bristol during the early 1830's who did issue checks as well as others who issued checks which were probably still in use towards the end of the 1930's. The most prolific issuing period for Bristol was between 1850 and 1914.
The Bristol pub checks series were issued with various denominations:
No Value

1d

1 ½ d

2d

2 ½ d

3d

4d

6d

8d

1/-
The denominations which dominated in the Bristol series were 2d, 3d and 1½d. Some checks indicate price increases with stamped revaluations on them. The majority of the Bristol checks were predominantly manufactured by Birmingham die manufacturers. Some Bristol checks were manufactured by Joy & Brown who were based in Bristol. The pub checks were used for several reasons which depended on the issuer's requirements. They were used for the purpose of advertising, pub games such as Bagatelle, Skittles or Bowling. In one instance for use in a shooting gallery. Societies often met at pubs and hotels. The landlords used these checks as a form of a wet rent system for those societies. There were a couple of music halls in Bristol, which issued checks so that customers could buy a check in exchange for refreshment only to be used in the music hall on that one evening but which would also allow admission to the entertainment. There were no doubt other various uses for the checks.

The majority of the checks were made of brass with a lesser number made of copper or bronze. The photographs attached with this introduction are for the following pubs:

Canterbury Music Hall Mary Port Street 3D. It was also known as the Western Counties Music Hall. It was built in 1855 but burnt down on the 24th September 1859. It was rebuilt. A newspaper advert of 14th September 1868 states that the proprietor was Mr J. Mc Cambridge and Admission prices were 3d, 4d, 6d. A 6D check exists with a man depicted dancing on the reverse. It is thought that a 4D check also existed. Do you have one in your collection? Have you seen one?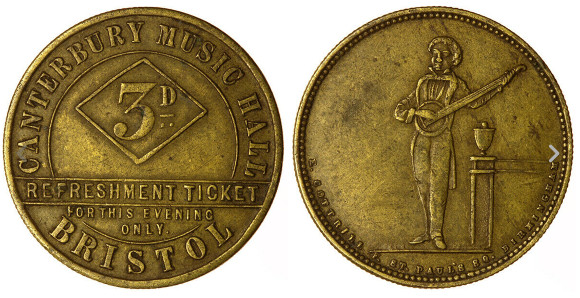 Globe Inn – Bowling Saloon East Street Bedminster 2D. This check was made by Edwin Cottrill When he manufactured this check his work premises were 52 St Paul's Square Birmingham.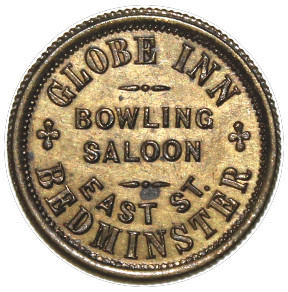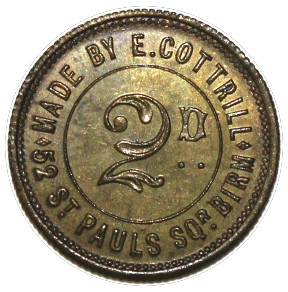 Mead Inn – Mead Street 3D. William Holland was the licensee 1871 – 1872. This check was made by Samuel Allen Daniell. He was working from premises in 52 St Paul's Square Birmingham having taken over the site after Edwin Cottrill.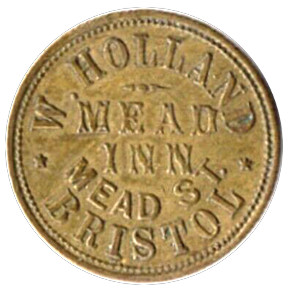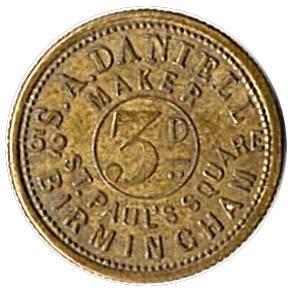 Ship Inn Cathay 2D George Godfrey. It is located on the corner of Ship Lane. Close to Redcliff Church. George Godfrey was the licensee from 1842 – 1853. The pub is still trading.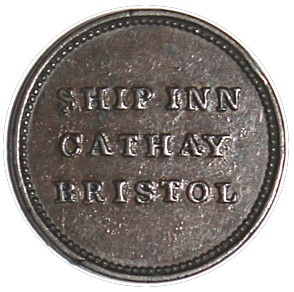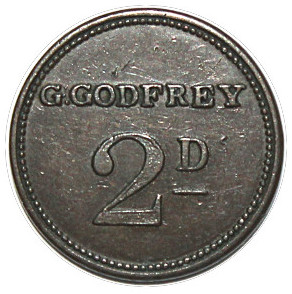 Gloucestershire Pub checks
The following pub checks were issued and used in Gloucestershire:
White Lion Inn Berkeley Gloucestershire 3D This check was issued by Thomas Herbert Pick. He was the licensee from 1877 – 1899 This check shows that it has been countermarked with an R and a C. These were for subsequent licensees who were Charles Roberts 1901 – 1902 and Henry Clutterbuck 1903 – 1927.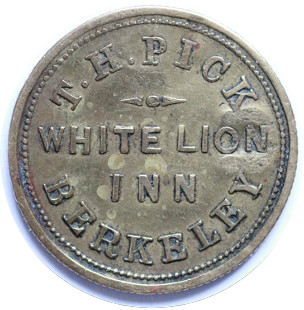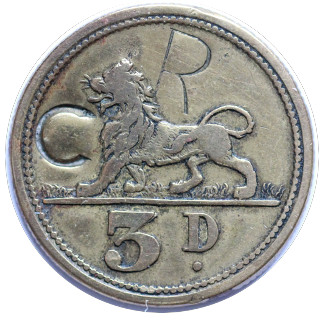 New Inn Charlton Kings Cheltenham 3D George Edward Eaketts was the licensee for this pub 1931 - 1941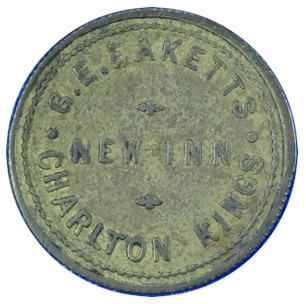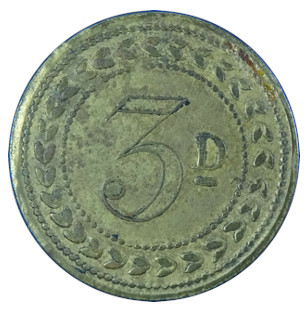 Llanthony Bridge Inn Gloucester 1 ½ d. Ford & Witts were the licensees from 1876 – 1879. This check has the countermark S M for Stephen Mitchell who was the licensee from 1919 – 1922.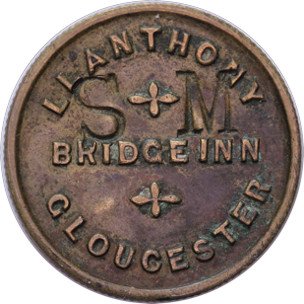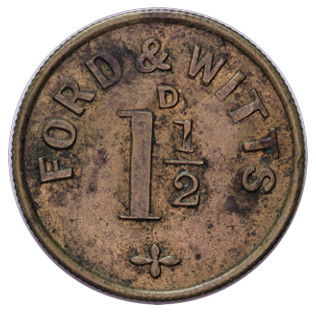 Your Help is Wanted by the small team working on this research. Do you have in your collection or know about the existence of any Pub Checks, Tokens, Tickets or Passes which were issued in the county of Bristol or Gloucestershire?. If so please make contact with us. adrian [at] bathandbristol-ns.org.uk. All help will be much appreciated.
---
---